USE OUR SHOWROOM FOR FREE
Education providers can use our show- and classroom for free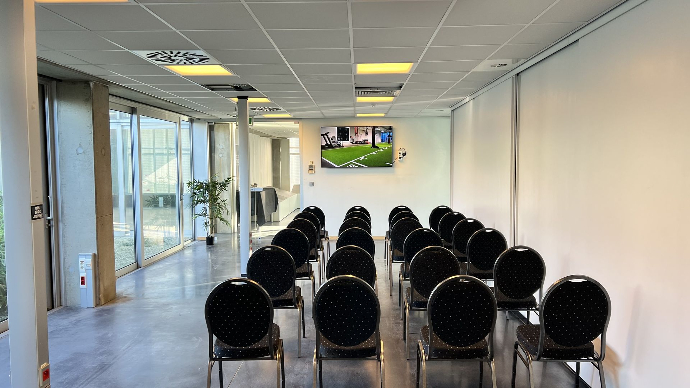 Want to host an educational event or course?
We support knowledge sharing and education since we believe that it takes our industry to a higher level. We do this by accommodating you for free in our show- and classroom in the STRIDE HQ in Ghent, Belgium.

We have a ready-to-use functional training gym with (almost?) everything you need. Besides that, we have a dedicated theory room with a big 65" flatscreen, 24 chairs and a coffee corner. Our showroom is easy to reach and has a huge parking. All you need to do is plug in your laptop and your good to go!
Does this sound to good to be true? It isn't!
Showroom training equipment
300m2 surface

rubber and sprinttrack

Hex dumbbell set 1kg - 40kg

KB set 4kg - 32kg

Bumper Plate sets 5kg - 25kg

Fractional plate sets 0,5kg - 2,5kg

Several 20kg and 15kg olympic barbells

Open and closed hex barbell

Landmines

Single-leg squat station

Hip thruster

Glute ham

Several plyo boxes (3-1, wooden and stack)

Elite medballs 2kg - 12kg (2kg increment)

Wall balls 3kg - 5kg - 7kg - 9kg

Slam ball 4kg - 20kg

Several storage options

All kinds of resistance bands

Agility cones and hurdles

Basic half rack

Power Rack

Home-training rig including wooden ladder

EF Half rack

Lifting platform




+ a lot more
Stations, cardio and more
Keiser Functional Trainer

Keiser M3i bike

Keiser M3i TBT

Keiser M5i Crosstrainer

DC Athletics treadmill

Cryo bath (ICE bath)

Cryo chamber

Excercise sauna

Cryo therapy set
Classroom setup
24 comfortable chairs

65" flatscreen TV

USB-C and HDMI cable

3 standing desks

Big table

Standing 'buffet" table

Power cord long and short

STRIDE Pens

Coffee corner with cups for up to 24 persons

Whiteboard
Goodiebag

On top of that, all your students get a free STRIDE goodie bag including:
A Stride t-shirt

Stride kettlebell keychain hanger

Stride mini band set

Stride printed catalog

20% discount voucher for the webshop




There's little we want in return... some good agreements are all it takes! We want you to:
Pre-event and after event clean up

Mention Stride, including the STRIDE logo on all your communication

Share a short post-event Stride referral, including the discount code in your post-event communication to your peers

Allow for one of our crew members to join as a host

Some small extra guidelines will be given upon booking
That's it! Easy does it
Let's get moving
Contact us to sort out if we can host your next event.